LabStories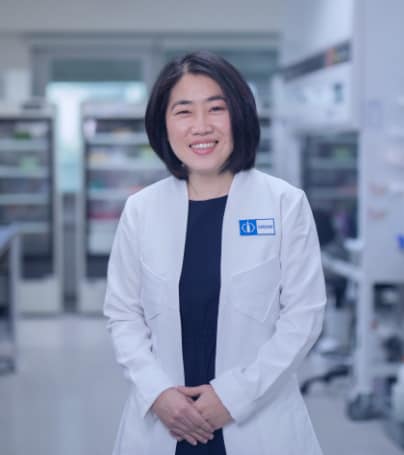 Siok Wan
Research Manager
Protein Analysis Unit
Siok Wan is a natural trouble-shooter, and the lab is where she finds solutions.
< Back
What's your job role at Chugai?
My responsibility includes overseeing unit activities, provide support to all members. In addition, I support protein analysis screening for the research project as the representative from Biologics Analysis Unit
What do you like about working in a lab?
As a scientist, I enjoy trouble-shooting and answer all scientific questions with the experiment in the lab. The lab is the place to find solutions to a scientific question. With proper experiment planning and assay controls, we could logically address the questions in science.
The biggest challenge you have and how you have overcome?
COVID-19 pandemic marks the biggest challenge that I have ever faced ever since I joined CPR. Coping with stress to carry forward important projects without disrupting the timeline while adapting to the new normal for the pandemic era. I was grateful that CPR has early on adopted a Flexi hour working style and we managed to switch to home office mode during Circuit Breaker measurements.
The agility of CPR has helped us to sail through the tough time. Positive thinking has helped me to cope with the challenges brought by the pandemics and being able to motivate team members to keep the morale high. Currently, we are working hard on the project to bring therapy to patients worldwide. I hope we can bring solutions to end the pandemic and all of us could return to normal life.
What do you like to do to unwind?
I would hit the gym, meet up with my friends. Enjoying my Peranakan cuisine, my favorite local food.
What do you like most about CPR?
I like the folks in CPR, they are friendly and very supportive. This extends beyond work-related collaboration. There's strong bonding among colleagues, everyone feels welcome in the office. We see friendly gestures to help the group buy lunch delivery, joining charity programs and after-work sports events.
I enjoy a nice workplace atmosphere. Together we form a strong and dedicated team for drug discovery.
< Back