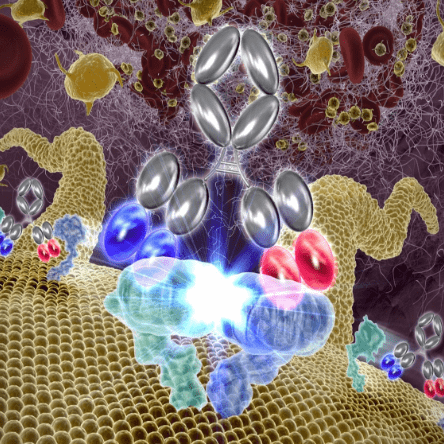 Bispecific Antibody
A bispecific antibody that binds to two different antigens with its antigen-binding sites. Our bispecific antibody technology was applied to recognize FIXa and FX, which mimics the function of FVIII, to treat haemophilia A, and create the world's first recombinant bispecific IgG antibody, the FDA-approved product, HEMLIBRA® (emicizumab). We established this technology to enable manufacturing at a commercial level and have multiple bispecific antibodies currently being tested in clinical studies and throughout the drug discovery process.
Reference Article:
A bispecific antibody to factors IXa and X restores factor VIII hemostatic activity in a hemophilia A model
Nat Med. 2012 Oct;18(10):1570-4.
< Back